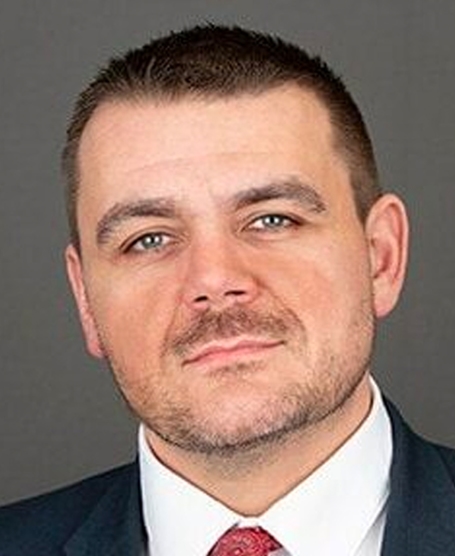 Rod Mastandrea Managing Partner, Attorney
Bio
Living in Cleveland for over thirty years as a native, Attorney Rod Mastandrea has been able to personally identify with his client's individual stories and adequately grasp their unique legal situations. His homegrown understanding of the nature of practicing law in Northern Ohio enables him to bring a local approach to his practice which spans numerous municipalities and counties in Northeast Ohio.
As a third generation Cleveland attorney, Rod Mastandrea has extensive experience and knowledge in criminal law, helping clients for over ten years obtain the best possible results in their criminal cases.
Background & Education
Rod Mastandrea earned his Bachelor's of Art in Political Science from the Ohio State University in Columbus where he graduated as a Dean's List honorary student. From there, Mastandrea went on to earn his Juris Doctorate from Cleveland State University, Cleveland-Marshall College of Law in Cleveland, Ohio in 2008 and has been defending the rights of accused defendants ever since.
While attending law school, Mastandrea worked as a Clerk/Attorney at the Cuyahoga County Office. Attorney Mastandrea worked as an associate attorney for Luftman Heck and Associates from 2010 – 2011 before becoming a managing partner at his own firm representing clients throughout the greater Cleveland area and across several counties in Ohio.
Attorney Mastandrea gained his Ohio bar admission in 2009 and U.S. District Court Northern District of Ohio in 2012.
Since 2015, Mastandrea has participated in seminars and classes at the Driver Intervention Program through Alternative Horizons to expand his knowledge on real-world issues impacting Cleveland, Ohio residents.
Attorney Rod Mastandrea is well-versed in using strategic legal tactics to get clients the best outcome on their case. Mastandrea will look over intricate details of each individual case and tailor his services to the unique demands of each case.
Awards & Recognition
Attorney Mastandrea earned recognition in 2015 as Avvo Clients' Choice in criminal defense attorneys. Mastandrea was rated excellent by Avvo as a featured attorney for Cleveland, Ohio for sex crime defense and criminal defense. Attorney Mastandrea received five-star reviews from all clients who shared, on Avvo, their experience while working with Mastandrea law.
Attorney Mastandrea is a member of the National Association of Criminal Defense Lawyers (NACDL), the Ohio Association of Magistrates, the Cleveland Metropolitan Bar Association, and the Cuyahoga County Defense Lawyers Association (CCDLA).
Criminal Charges Mastandrea Law, LLC Defends
Even stand-up citizens can find themselves facing serious criminal charges. Whether you are falsely accused, acted in self-defense, or you were just in the wrong place at the right time, you deserve to have your rights protected in a court of law.
No matter what type of charge you face, Mastandrea Law, LLC will work diligently to ensure you get an accurate and fair representation of your case. Attorney Mastandrea acts as an advocate on behalf of clients. No time is wasted on gathering crucial information to build a solid defense case for each and every client. Mastandrea Law, LLC is dedicated to working tenaciously to represent clients, no matter what types of crimes they are accused of committing. We represent clients throughout Cleveland, Ohio on cases involving:
DUI / OVI
Drug crimes
Domestic Violence
Violent Crimes
Theft Crimes
Weapons Crimes
Internet Sex Crimes
Gross Sexual Imposition (GSI)
Sexual Assault
Statutory Rape
Student Crimes
Felony Charges
Misdemeanor Charges
Traffic Violations
Attorney Rod Mastandrea will do everything in his power to help sway the outcome of each client's case in their favor.
Rod Mastandrea Will Stand By You Every Step Of The Way
The criminal justice system can seem daunting, especially for individuals who are accused of their first crime. Rest assured knowing attorney Rod Mastandrea will help you make your way through the justice system efficiently and effectively from start to finish. It is crucial to note that attorney Rod Mastandrea prepares every case as if it is going to trial. It's true, a large number of cases do end during pre-trial conferencing, but it is imperative that each case is thoroughly prepared right from the beginning of a case as a client goes to trial.
Immediately after a client is arrested, they should call Mastandrea Law, LLC to get the best, most tenacious and knowledgeable representation. Mastandrea will help clients secure bonds and make their best first impression at their preliminary hearing.
From there, Attorney Mastandrea will remain at his client's side through their arraignment to ensure each client's rights are protected. Mastandrea then works diligently to collect evidence from the scene of the crime, request evidence from the prosecutor, file motions, and collect witness statements and testimony. If necessary, Mastandrea will find expert witnesses to testify on behalf of clients.
Attorney Rod Mastandrea applies his intricate knowledge and expertise in negotiating plea bargains during pretrial conferences that are in the best interest of his clients. Mastandrea takes great pride in his ability to help clients achieve reduced or dismissed charges so they can focus on their lives rather than remain bogged down by a lengthy criminal justice process.
In cases that go to trial, Mastandrea stands up for each client and ensures every last piece of evidence proving their innocence is presented. If clients are found guilty, Mastandrea will not step down. Instead, he will work diligently to negotiate a lesser sentence in an effort to help clients get reduced fines and jail time whenever possible.
Criminal trials are time-consuming and detail-oriented. It is imperative that anyone accused of a criminal offense in Cleveland, Ohio has Mastandrea by their side to help navigate the court system in a fair and well-organized manner.
An Exceptional Cleveland Criminal Defense Attorney
As a former staff attorney for the Cuyahoga County Office, attorney Mastandrea gained first-hand experience practicing law from many different standpoints. Mastandrea worked on a variety of cases involving criminal matters ranging from lower level traffic violations first-degree felonies.
Mastandrea was one of the attorneys in charge of the Pilot Program. His duties included handling felony matters during the early stages of the defense process where he worked with clients and the courts to resolve cases quickly while obtaining results in favor of his clients.
While working at the Cuyahoga County office, Mastandrea handled many cases through the entire judicial process. He assisted other attorneys on cases beginning early disposition hearings, to the pretrial process, all the way down to co-counseling felony trials.
Large Firm Experience With Small Firm Service
Attorney Mastandrea gained large firm experience while heading a Cleveland Criminal Defense Practice for local Ohio firm. As head of this practice group, Mastandrea managed a variety of cases spanning across numerous areas of criminal law. While handling caseloads, including DUI/OVI's, misdemeanors, felonies, and traffic offenses, Mastandrea gained extreme familiarity with the inner workings of the local court systems throughout the Cleveland area.
Mastandrea gained experience and knowledge working on cases in all 14 municipal courts throughout Cuyahoga County, as well as a variety of municipal courts in Lake, Lorain, Summit, Geauga, Stark, and Trumbull counties. Additionally, Mastandrea worked extensively on cases in the Cuyahoga County Court of Common Pleas.
Although Mastandrea gained extensive knowledge while working diligently for clients throughout this challenging and rewarding experience, he believes that small firms and a personal approach ensure the best representation possible. Mastandrea found that his private practice enables him to devote his skills and expertise, as well as his legal acumen, to his clients, while he represents each and every one of them individually. To Rod Mastandrea, clients are far more than a number in a caseload; they are people he knows by name.
Seeking Justice For Every Criminal Defense Client
It does not matter whether a client is facing a minor misdemeanor traffic violation or a first-degree felony. Attorney Mastandrea believes each and every client deserves the full breadth of his attention, his expertise of the law, and commitment to imparting justice through relentless advocacy of truth, fairness, and the constitutional rights guaranteed to every single American.
Attorney Mastandrea dedicates 100% of practice to litigation. He works aggressively to ensure every client who is accused of a crime receives a fair trial that upholds all of their constitutional rights. Clients can expect that their cases will be handled with care, courtesy, and complete professionalism from start to finish.
Fighting DUI / OVI Charges In Cleveland, Ohio With Attorney Mastandrea
A lot of Cleveland residents aren't aware that they can be charged with DUI for driving tractors, mopeds, boats, ATVs, golf carts, or even bicycles. Being charged with a DUI/OVI offense can have a serious impact on your freedom and finances.
Offenders found guilty of a DUI under Ohio law face extensive fines, jail time, license suspension, and even interlock ignition device installation. The consequences of a DUI conviction can drastically disrupt a person's daily life.
If you are arrested for driving under the influence, it is imperative that you have a reputable attorney to help you with your case. Contact Mastandrea Law, LLC as soon as possible to have a dedicated DUI/OVI lawyer by your side in court. Mastandrea takes a prudent and practical approach in every case. He will fight aggressively to meet each client's expectations while diligently working toward minimizing charges or the consequences of charges clients face.
Fighting Student Crimes In Cleveland, Ohio With Attorney Mastandrea
Student crimes can have an overwhelming impact on the accused ranging from a loss of freedom and finances to a loss of financial aid and a jeopardized career. Students accused of crimes will want to hire Mastandrea Law, LLC to ensure they are treated fairly in the court of law and get the best possible outcome with their charges.
Rod Mastandrea works passionately to help students facing criminal charges clear their names so they can return to focusing entirely on their education. When attorney Rod Mastandrea works with students, he advocates for their rights in the criminal justice system and while facing disciplinary hearings through the board of education. Mastandrea makes it a priority to work on behalf of students to resolve cases with reduced or dismissed charges at every chance possible.
Fighting Sex Crimes In Cleveland, Ohio With Attorney Mastandrea
Attorney Mastandrea works aggressively to protect clients facing sex crime charges throughout Cleveland, Ohio. Sex crime charges can have a far-reaching impact on a person's life, career, and education. Even so much as an accusation can have serious consequences. It is important that accused offenders work with a reputable attorney to clear their names and help them move on with their life.
Working with Mastandrea Law, LLC will guarantee that you have a strategic student crime defense lawyer by your side in court. Attorney Mastandrea will evaluate your case and advise you on the best way to move forward. Mastandrea works to protect every client's best interest and rights by working aggressively toward reducing the charges they face as well as their sentencing.
Fighting Criminal Charges In Cleveland, Ohio With Attorney Mastandrea
A criminal conviction can have a damaging impact on a person's life and career. Attorney Mastandrea treats every client as if they were a member of his own family. He places each client's best interest at the top of his priority, ensuring a solid defense that stands up to even the most challenging prosecutor.
Mastandrea Law, LLC works diligently to protect clients facing criminal charges throughout the Cleveland, Ohio area. Mastandrea focuses 100% of his litigations on criminal defense. Clients can rest assured knowing his extensive experience and knowledge is effective and efficient in ensuring the outcomes they deserve and expect on every case.
Mastandrea Law, LLC Firm Service Areas
Mastandrea Law, LLC is located in Cleveland, Ohio and serves the following areas:
Cleveland
Beachwood
Independence
Westlake
Euclid
Mentor
Painesville
Chardon
Chagrin Falls
Akron
Medina
Lorain
Elyria
Ravenna
Kent
Aurora
Hudson
Cuyahoga County
Summit County
Lake County
Portage County
Geauga County
Lorain County
Medina County